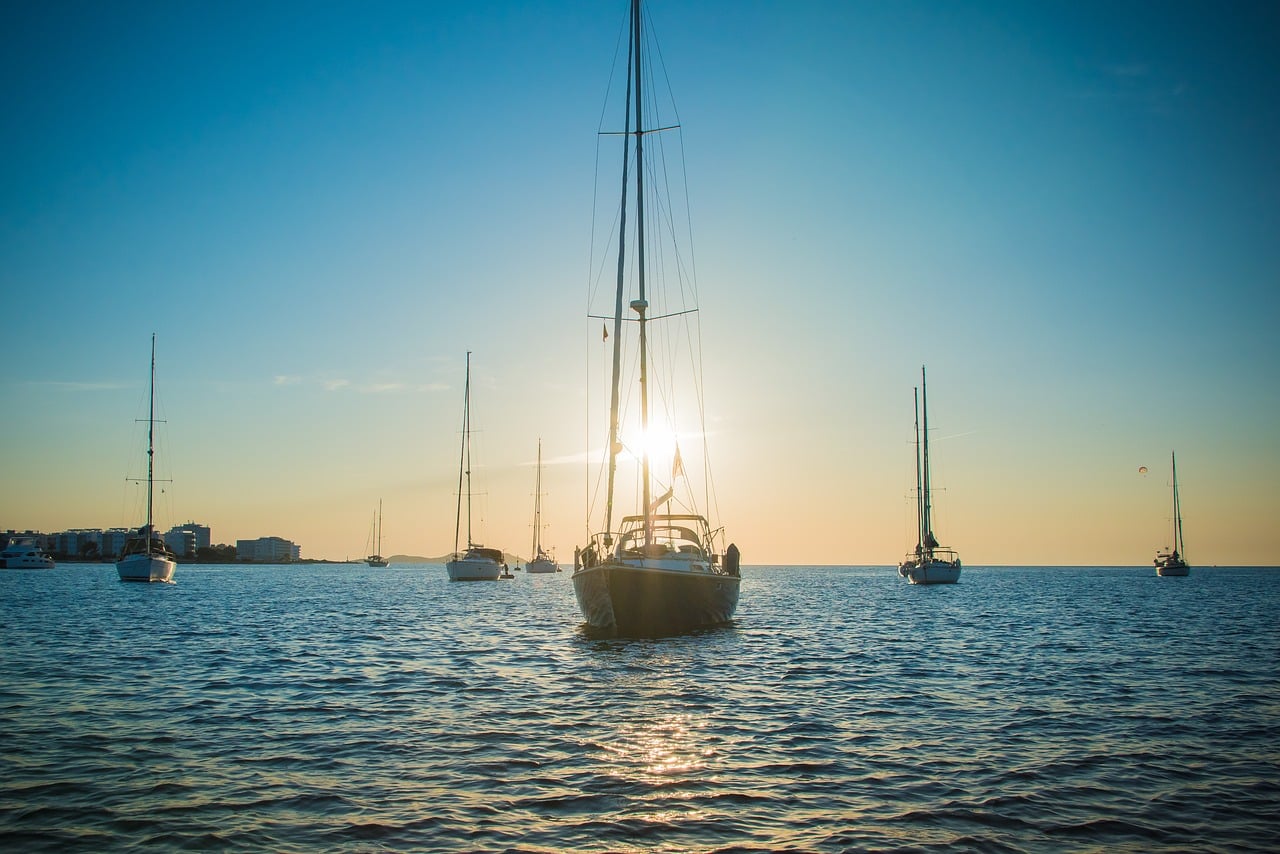 Ibiza – An Island For All
Ibiza is one of the most scenic, and famous of the Balearic Islands. While smaller in size than most Ibiza packs stunning sights and offers endless attractions. While Ibiza might be known for its nightlife, but that is not all it has to offer. From its historic town to its phenomenal views and sand beaches – Ibiza is an island that is worth it all.
Ibiza being an island offers endless stretches of golden sands and fresh seawater. Offering something to everyone the island offers different modes all around, making sure you find a space you fit in comfortably. What makes Ibiza a joyous adventure, is the fact that you can get a taste of everything and land where you feel most comfortable.
Every summer partiers from all around the world make their way to Ibiza. Hitting every famous dance floor, club, and pub on the island. Touching everything from Amnesia, Privilege, to Pacha – and let's not forget the legendary Ushuaia.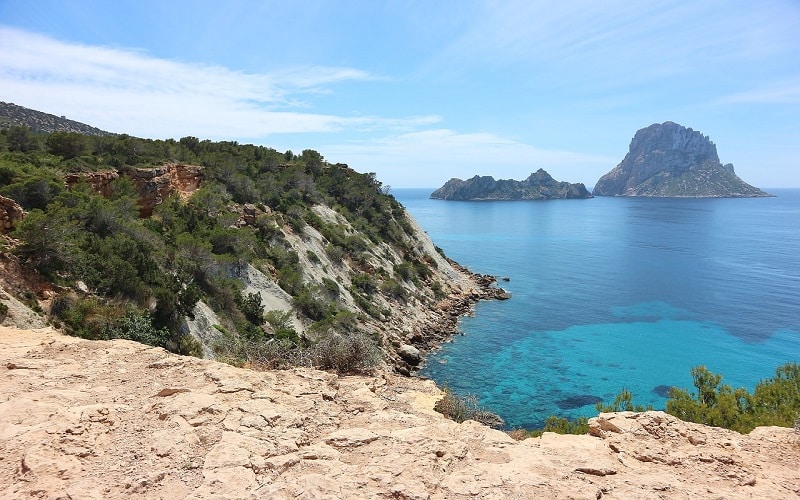 Ibiza is a dream not only for night walkers but for those who are looking for some entertainment during the day. To make sure your day and nights in Ibiza are packed with fun, we have listed down a few things you can do during the day in Ibiza.
One of the most obvious and fun ways to spend your time in Ibiza is on the beach. We suggest you look for a pine forest beach and pack a picnic that takes you away from the businesses and bars. To a place where you can enjoy some quality time with yourself, or family and/or friends. There are several pine forests around Ibiza, but we suggest you head north towards Sant Joan De Labritja. Just five miles from there you will find yourself amidst a beautifully scented pine forest, that offers a stunning secluded bay surrounded by steep cliffs. Here you will find the clearest water for snorkeling and swimming.
Can you call any vacation a holiday if you do not enjoy some locally grown and produced wine? Ibiza has wonderful grape growing weather that calls for vineyards on the island. These vineyards have been owned by families for generations, and offer a good supply of locally produced wine around the world. We suggest you start with Sant Mateu, here you can learn a great deal about wine-making in Ibiza and its history. Once the lesson is over you can indulge in a delicious meal at the restaurant paired with some of the best wine you have ever tasted.
A contemporary monument by Andrew Rogers that is located on top of a rocky coastal shelf. Just 10 minutes away from south of Cala Codolar, you will find "Time and Space, The Speed of Light" commissioned by Cirque du Soleil. The stunning monument features a monument sitting 10-meters high, offering you a great vantage point from where you can enjoy the sunset. We suggest you make your way there during the day, so you can catch glimpses of the Es Vedra Islands.
This UNESCO World Heritage Site is the high town of Ibiza – covering the higher half of the town, it offers you a spectacular look into Ibizas history and culture. The story is told using architecture, and art placed in various museums in the area. Inside these fortified walls, you will find several bars, shops, and restaurants; taking you back in time while offering you a great way to enjoy your time.
If you love exploring and looking for hidden gems the Can Marco Caves located in the north of the island is the place to be. Starting with a stunning sea view the caves take you through the route taken by smugglers. When you reach the center of the caves, you will find a stunning light and music show that allows you to admire the natural rock formations around you. A gorgeous wonder that will leave you stunned.
Take advantage of the fact that you are vacationing on an island, and head to one of the main beaches for some water sports. It does not have to be extreme, just something you can enjoy and remember your trip by. You can start with something small, and make your way to take on extreme watersports.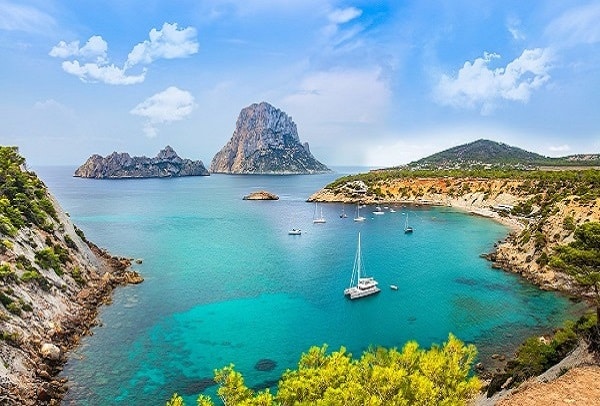 How to get to and around Ibiza
Flying is almost the only option to travel to Ibiza. In addition, Ibiza Airport is the only airport on the island. 95% of visitors arrive here.
The airport is about six kilometers from the city of Ibiza. To reach the center you have the choice of a taxi or the bus. A taxi will quickly cost you 35 euros, while the bus is up to ten times cheaper.
How to get around?
Although there is public transport in Ibiza, this is not always convenient. Public transport does not reach most of the beaches and coves on the island. At least not to the best. A better option is to rent a car or scooter. This can already be done in the airport or in Ibiza Town itself.
Annual events and festivals
Ibiza is an island that has numerous events and festivals during peak season.
Noche de San Juan is celebrated on the night of June 23rd to 24th… the shortest and most enchanting night of the year. After all, on June 24, Spain celebrates the birth of San Juan (Saint John the Baptist), and it starts with the previous Night of San Juan from June 23 to 24, in just about every place on the Spanish coast! A special night full of fun with family or friends at the beach, and good food, drinks, bonfires.
In 2015 – the 'Playing For Change Day' was organized in Ibiza for the first time. A music festival on the beach of Cala Llonga with 4 stages, 38 live bands, hippy market, food market and kids entertainment. The festival is free and runs from 12:00 to 00:00.
Ibiza is one of the most popular beach destinations – not just in Europe, but in the world. Ibiza holds a magical charm and allure that is powered by its multi-cultural background. While Ibiza is a part of Spain, the culture there holds pages from all the dynasties that have passed. Offering you a touch of wonder, and beauty wrapped in one. So why not take advantage of the world's hottest beach destination, by taking on every top club in Ibiza.
Hi, Ibiza is the newest, and one of the hottest clubs in Ibiza. Hi took over a former club called Space, and has completely transformed the space and the vibe that came with the club. At Hi you will find a plush and high-end crowd, but that does not mean they have dialed back on the crazy factor. Voted to be one of the best clubs in Ibiza Hi is located close to the Airport. Pumped on its electronic scene, you can easily catch world-famous DJs showcasing their talents at Hi Ibiza.
Privilege is the biggest nightclub in the world and has played host to many international celebrities such as Jade Jagger, Madonna, P. Diddy, and others. Located between Ibiza Town and San Antonio, Privilege offers a unique sense and a stunning 25-meter high ceiling. Paired with tall windows that allow you to enjoy the spectacular views of the island. However, that is not all as the club comes with a swimming pool, and is the hottest spot during the summer season. With a number of themed parties popping up every now and then.
Another top-ranking club opens its doors every night around midnight, offering you a place you can party until dawn. During the summer season, you will see a huge influx of tourists from all around the world dancing to every tune the DJ plays. When it comes to space Amenia can easily hold around 4000 people at a time, especially when it has DJs such as Deadmau5 and Paul van Dyk playing.
An iconic Ibiza club that was once located on the Stiges beach in 1967. However, in 1873 the Pacha nightclub moved to Ibiza and has been a staple ever since. It is one of the few clubs in Ibiza that is open every single day of the year and hosts many iconic Australian DJs. With renowned DJs playing the place offers a good charge. Considered to be one of the most expensive nightclubs in Ibiza, Pacha has a great deal to offer. Offering you a dedicated VIP style, with a funk room, electric, hip-hop, 80's and 90's moments. Offering you a blast from the past, so you can enjoy a one of a kind experience.
A wonderful choice that is set under thousands of shimmery stars. This open-air club is considered as one of the best, as it stays open until midday (the next day!). A dream for those who love to post their life online, and give everyone else a reason to be jealous. With huge screens and Balinese beds you get a night you will love.
Located on Playa d'en Bossa, Bora Bora nightclub is much more than a club. It is a beach bar where you can enjoy the multicultural roots Ibiza has to offer. Packed with locals and tourists the club holds its roots whole offering you a festive atmosphere. Offering a unique yet setting sense that overpowers your body and mind.
The Spanish island of Ibiza is generally slightly more expensive than beach resorts on the Spanish mainland. This can also be the case for holidays to Ibiza, but this is certainly not always the case. Renting a car in Ibiza is generally not too bad, for +/- 100 euros per week you can already rent a car. On some beaches you can rent a bed, the prices can vary enormously. For example, you can sometimes pay up to 20 euros for a beach bed on Playa d'en Bossa.
The food and drink can be very expensive in Ibiza. For example, in Ibiza town you can lose €5 for a coke. Fortunately, if you go to the seaside resorts, the prices are a bit lower.
Ibiza is a famous nightlife destination. Again, you can make it as expensive as you want. But if you want to go to the famous clubs, you will have to put down a lot. The average entrance prices range from 40-50 euros to 90 euros for evenings with well-known DJs.
And of course not unimportant, how much do the drinks cost? Prices vary widely in the bars and you usually pay between 2.50 – 8 euros for soft drinks or beer. In the clubs these prices are a lot higher. You can easily pay 10-13 euros for a drink in one of the more famous clubs. In the popular Ushuaia, prices can even go up to 22 euros for a drink.
Ibiza offers short, muggy, warm, and dry summers – most of the days are clear with the sun shining its brightest on you. On the other hand – winters are a long, windy, cold, and partly cloudy affair. Over the year the weather temperature ranges from 8 C to 30 C and does not go over 31 C or below 4 C.